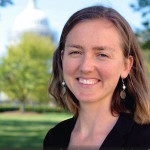 About Kate
Expertise: National peace and security advocacy, with a focus on U.S. policy toward Iran, Syria, Iraq, Yemen, Saudi Arabia, and the Israeli-Palestinian conflict.
Experience: Kate Gould is the Legislative Representative for Middle East policy at the Friends Committee on National Legislation (FCNL), a Quaker lobby in the public interest fielding the largest team of registered peace lobbyists in Washington, D.C.
Kate has served as an advocate and analyst on Middle East policy for more than eight years.  She is one of only a handful of registered lobbyists in Washington, D.C. advocating for diplomatic solutions in U.S. policy toward Iran, Iraq, Syria and Israel-Palestine. Kate was profiled in 2014 as the "Quaker Lobbyist Behind the Iran Deal Fight," by Congressional Quarterly, an outlet with readership that includes 95% of members of Congress.
Kate's analysis on Middle East policy has been published in The New York Times, The Washington Post, USA Today, The Guardian, The Daily Beast, CNN, Reuters, AFP and other national outlets. Kate has appeared as an on-air analyst for various TV and radio programs, including The O'Reilly Factor on Fox News, The Thom Hartmann Show, The Real News Network and CCTV. She is a Political Partner at the Truman National Security Project, and also represents FCNL as a board member of Churches for Middle East Peace.
Prior to coming to FCNL, Kate lived and worked in the West Bank, where she taught Palestinian school teachers for AMIDEAST while coordinating a joint Israeli-Palestinian radio program at a think tank in Jerusalem. Kate also interned for Senator Jeff Merkley both in her hometown of Medford, Oregon, and in his Washington, DC, office.